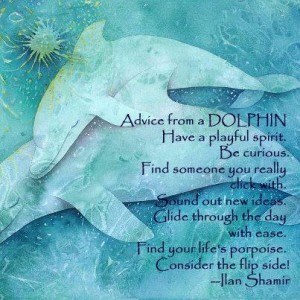 Advice from a DOLPHIN
Have a playful spirit.
Be curious.
Find someone you really click with.
Sound out new ideas.
Glide through the day with ease.
Find your life's porpoise.
Consider the flip side!
-Ilan Shamir
Raising Ecstasy
What are you curious about today? Consider a situation that has your attention….what does the flip side look like? What can you do this weekend to have a playful spirit? Who do you know that you click with?